Our Publishing Division sells books wholesale to non-profit groups for fund-raising. The Products Division features custom made jewelry. See listing below for Services Division options.
For Additional Information:
Click on an item on the page.

Click on a Menu Link on the left.

Click on Site Map Link for a complete listing of everything on our site.

Click on Home to return to our Welcome page.
Cooking Healthy with BCV's Shortcuts:
by: Phyllis A. Milkon


Special Reprint for David's 100th Birthday
Earthly Angels: David Chen's Survival of Famine and Persecution
by: Phyllis A. Milkon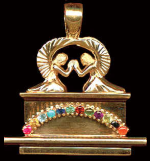 Ark of the Covenant - Especially Designed for Evangelism
Original Idea & Design Coordination by: Phyllis A. Milkon