Cooking Healthy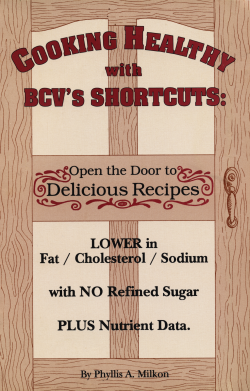 All copies are autographed.
250 Pages with 171 Original Recipes
Comb Binding. Conveniently organized into 10 sections.
Preparation and Cooking Times - Wide variety of recipes.
Detailed Step-by-Step Instructions and Time-Savers.
Nutrient Data, Serving Sizes and Quantity Served.
Recipes suitable for families with different dietary needs.
Large, easy to read type. - Pot Sizes. - Freezing Tips.
Suitable for children ages 12 and over.
Requires only standard kitchen equipment to achieve results
Testers in 8 states participated in critiquing these recipes.
Journal of the American Dietetic Association


Other Opinions



ISBN 978-0-9630025-1-8 (old ISBN 0-9630025-1-1)

Price: $30.00 SOLD OUT